The perfect fluffy gluten free waffles are made with yogurt and just a touch of sugar, with a lightly crisp outside. Make them ahead and freeze them, then refresh in the toaster oven for a hot breakfast on busy mornings!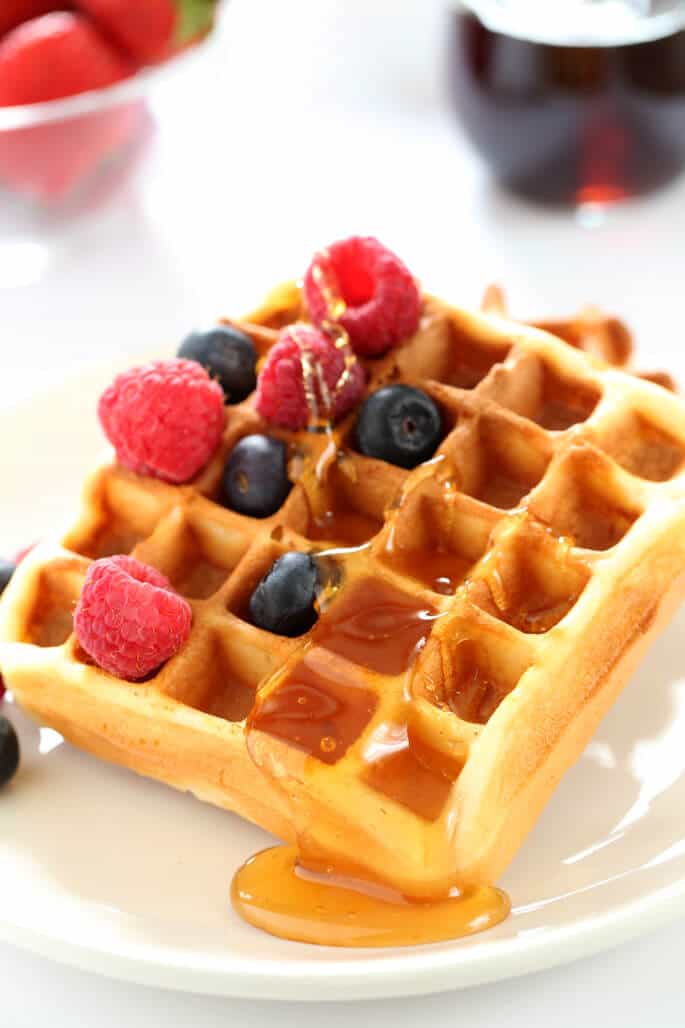 Gluten free pancakes or gluten free waffles?
Is it pancakes all the way for you, or are waffles more your style? In my family, when I make pancakes I'm kind of gluten free breakfast hero.
But when I make waffles, my kids practically throw me a ticker tape parade. I'm thinking it's the built-in syrup cups in waffles?
Why this is the best gluten free waffle recipe
The batter for this recipe is the perfect texture to make the very best gf waffles. It's fluffy because of the whipped egg whites that are folded in, but still thin enough to create perfectly crispy waffles that brown but never burn.
Waffle batter that's stiff and thick usually makes chewy waffles, even if you cook them long enough to brown the outside. The oil in these gluten free waffles thins the batter with pure fat, unlike when you use butter.
The result is waffles that expand beautifully in the waffle iron, so the insides are tender and fluffy—and brown to perfection on the outside.
Gluten free waffles — ingredients
The ingredients, in all the right proportions, are the reason for the success of any recipe. Here's what each ingredient does in this gf waffle recipe:
Gluten free flour blend – Avoid a traditional all purpose gf flour blend that contains too much xanthan gum for this recipe; a touch is all you need to help your waffles hold together well and stay fresh longer
Sugar – Just a bit of sugar in the batter sweetens the waffles and tenderizes them, too
Baking powder and baking soda – Make sure your chemical leaveners are fresh, and don't add the liquid to them until you're ready to go!
Salt – Balances the sweetness and brings out the other flavors
Eggs – Be sure to separate the eggs one at a time; if you get any yolk in your whites, the whites won't whip
Coconut oil – To avoid any coconut flavor, use triple filtered virgin coconut oil (the kind that's solid at cool room temperature)
Yogurt – Plain yogurt adds fat and acid, both of which make for moist and tender waffles
Milk – Avoid nonfat milk, which adds really nothing more than water to a recipe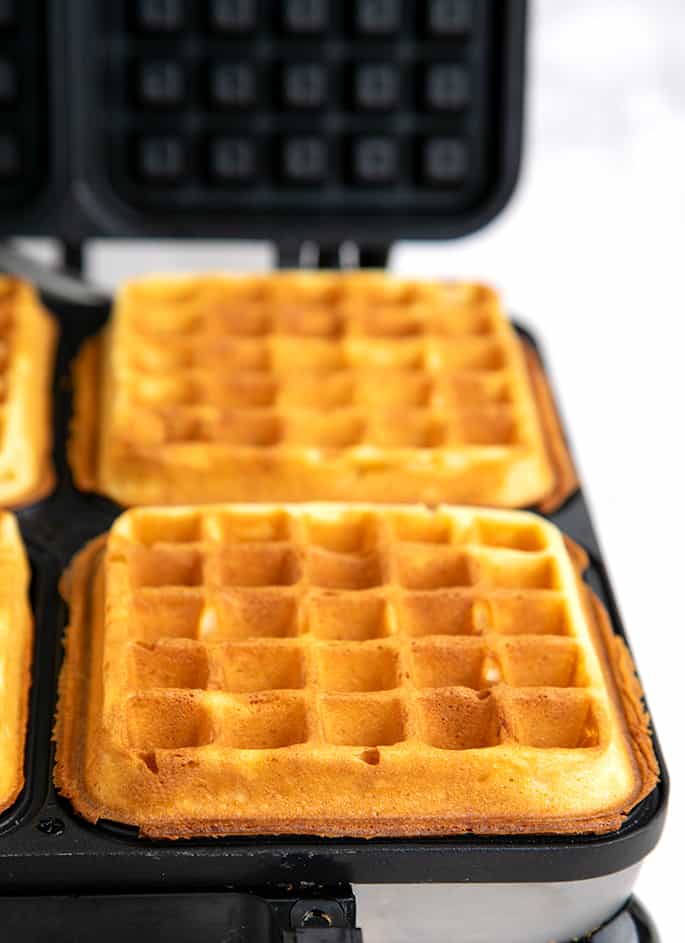 Tips for making homemade gluten free waffles
Separate the eggs and whip the whites
The main difference between waffles and pancakes is in the method. When making gluten free waffles (or any waffles, for that matter), the eggs are separated, and the whites are beaten separately before being folded into the rest of the batter.
I've been making a variation of this recipe for years, and I always take the extra few minutes to treat the eggs just right. Although the yolks beat best at room temperature, it's easiest to separate eggs that are still cold. I recommend separating the eggs when they're cold, then letting the yolks sit for a bit if possible.
But do beat the whites. Even dense waffles will have those lovely syrup pockets, but they won't be crisp on the outside, soft and fluffy inside. If you're breaking out the waffle iron, let's go all the way.
There aren't too many ingredients in this recipe, but the plain yogurt is really important. Oh, and in my experience waffles work best with oil instead of butter, as oil is nearly pure fat and butter has a fair amount of water in it. It makes for much neater waffle-iron-cooking.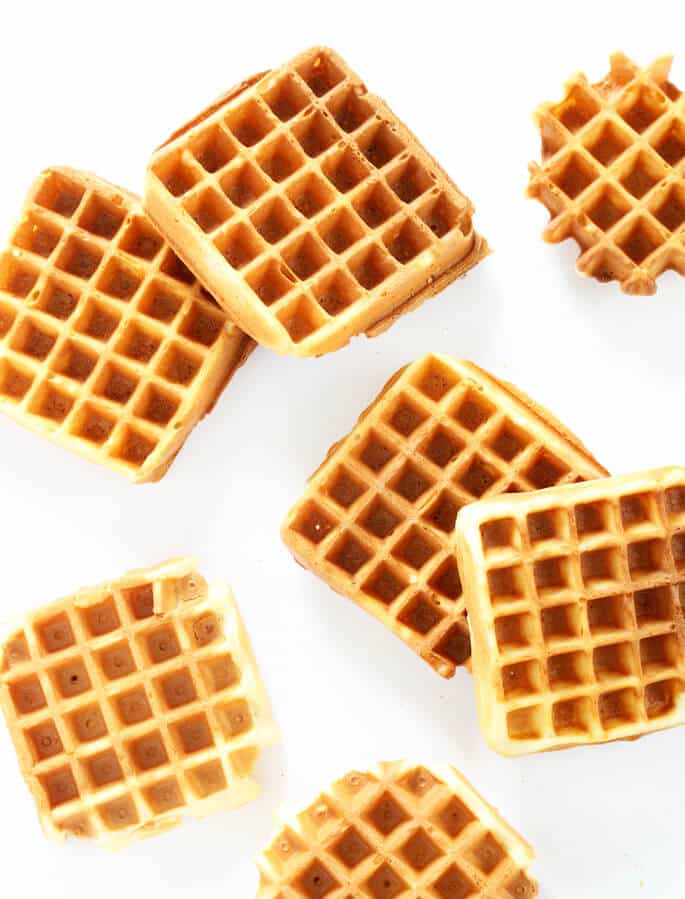 Getting the perfect gluten free waffle shape
If you're a perfectionist, you'll want each and every waffle to be a perfect shape. For Belgian waffles, that means the whole circle, and not a 'cup' missing. For square waffles, that means no rough edges.
Leave a 1/4-inch clean border around the edge of the iron. That will give the waffles a bit of space to expand during cooking, but without overflowing the sides.
For the fluffiest waffles, be sure to blend the oil and egg yolks first until creamy before adding the other ingredients, and then folding in the whipped egg whites.
Always preheat your waffle iron
All waffle iron grills are designed to avoid sticking. They may be cast iron, or they may be nonstick-coated, but regardless, if they're not preheated until hot, your waffles are more likely to stick.
Use cooking oil spray to prevent sticking
Even nonstick coating isn't perfect, especially when your waffle iron isn't brand new. To prevent sticking, coat the iron generously with cooking oil spray before adding any waffle batter.
An ice cream scoop makes portioning easy
If your waffle iron makes smaller shapes like mine makes divided squares, a larger spring-loaded ice cream scoop can be really useful for portioning the batter evenly. If your iron is bigger, pouring the batter from a measuring cup with a pour spout may be best.
The gluten free flour blend matters
Made with our 3-ingredient gum-free gluten free flour blend as directed in the recipe below, you can spread the batter all the way to the edges of the mold without worrying that it will pour out during cooking.
If you use one of my all purpose gluten free flour blends instead of the gum-free blend as specified, the batter will be much, much thicker and will expand quite a bit more during cooking.
I really do recommend using the blend specified in the recipe, though. The batter is much simpler to work with, and the waffles are even fluffier.
The right way to measure your gluten free flour
Always measure dry ingredients, especially individual flours and your gluten free flour blend, by weight. A simple digital scale should only cost about $20 (Escali is a great brand), and it's the only way to ensure accuracy in measurements.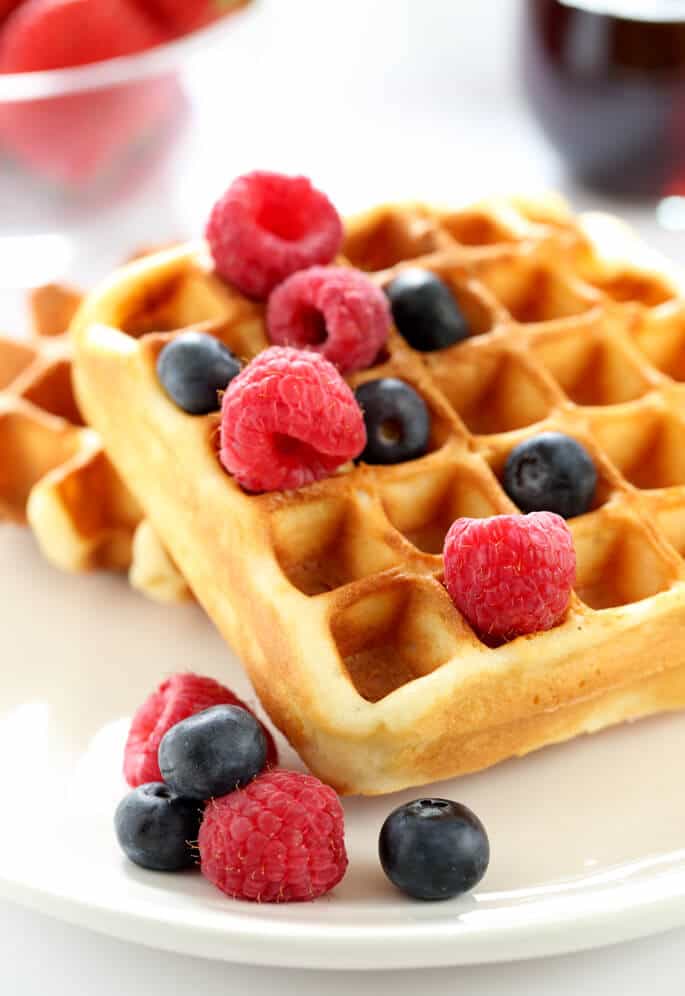 Which waffle maker is best for perfect fluffy gluten free waffles?
I've tried many, many waffle makers over the years, and I've finally settled on two favorites.
For Belgian waffles, I'm partial to the Presto Flipside Waffle Maker (aff. link). It cooks very evenly and as long as there's a light coating of oil, the waffles never stick. And the price is very fair.
For traditional square waffles, I absolutely love the waffle maker I bought years ago at Kohl's, but I'm sorry to say that they don't sell it any longer! It's The Food Network brand, and I've loved everything I've ever bought under that label.
This Hamilton Beach brand waffle maker looks very similar, and has really good reviews. That's also an affiliate link, but please shop around!
Substitutions for gluten free waffle ingredients
Gluten free dairy free waffles
These waffles are quite simple to make dairy-free. The plain yogurt can be plain nondairy yogurt (I like Silk brand), and the milk can be your favorite unsweetened nondairy milk (I like unsweetened almond milk).
Waffles work best when the fat used isn't butter anyway, but rather something that contains less moisture. That's why I really like coconut oil or even a liquid oil like grapeseed.
Gluten free egg free waffles
Since you really need to separate the eggs and whip the whites, a "chia egg" or similar egg substitute won't work. If I were to try to replace the eggs here, I'd use 1 1/2 tablespoons (21 grams) more oil in place of the yolks, and 1/4 cup aquafaba, whipped until it holds soft peaks, for the whites.
Aquafaba is the name given to the liquid from a can of chickpeas. One can typically yields 1/2 cup brine, or aquafaba. Be sure to fold in the whipped aquafaba just as directed with the whipped egg whites in the recipe.
Gluten free, vegan waffles
If you use the dairy and egg replacements, and you're careful about choosing your granulated sugar, you'll have vegan gluten free waffles!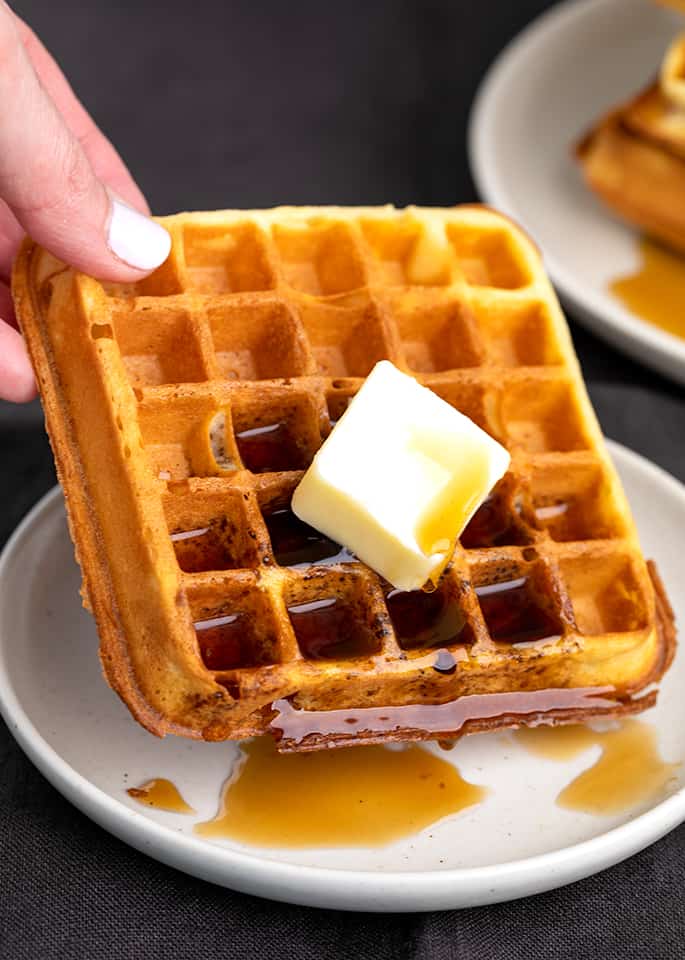 Homemade gluten free waffles — tasty variations
This is a simple recipe for perfectly crisp-tender gluten free waffles. Make them once plain, and then get ready to make them your own.
Gluten free waffle mix-ins
Blueberries
Fresh blueberries are too wet for the inside of your waffle batter, but dried blueberries would be great. Fold 2 ounces of them into the batter with the egg whites.
Brown sugar and cinnamon
After your waffles are finished cooking, remove them, still hot from the iron, and toss lightly in a mixture of brown sugar and cinnamon.
Miniature chocolate chips
Try folding miniature chocolate chips into the waffle batter when you fold in the whipped egg whites. Only add about 2 ounces, so you don't alter the batter texture too much.
Gluten free waffle toppings
Bananas
Slice lightly spotted bananas and serve on top of a beautiful stack of freshly cooked (or freshly heated) waffles. Sprinkle the banana slices with some ground cinnamon.
Maple syrup
A classic for good reason, pure maple syrup is never a mistake. Top first with a pat of room temperature butter.
Peanut butter
Heat a bit of natural peanut butter and drizzle it on top of your waffles. Or try dusting some powdered peanut butter for a lighter taste.
Powdered sugar
Even just a tablespoon of powdered sugar sprinkled on through a fine mesh sieve after your waffles have cooled a bit will make a dramatic presentation.
Whipped cream
Whip up some fresh heavy whipping cream and add some fresh berries. Sweeten the whipped cream or drizzle some strawberry syrup on top.
Storing leftover gluten free waffles
If you have any leftover waffles, let them cool completely before you try to store them for later use. If you wrap them before they're cool, they'll get soggy.
Freezing gf waffles
I like to freeze any leftover waffles in groups of 2 or 3. I wrap them very tightly in freezer-safe wrap like Glad Press 'n' Seal, and place them in a sealed freezer-safe container. They last for at least a month!
Reheating gf waffles
These gf waffles can be reheated right from frozen. They're not solid like a muffin, so they don't have freeze all the way through. Pop them in a 275°F oven or toaster oven, or put them right into a toaster on medium-low.
FAQs
Are waffles gluten free?
No! Only waffles made with a gluten free recipe, using gluten free ingredients and especially flours, are gluten free.
Are gluten free waffles healthy?
These waffles have very little sugar, and even some healthier fats. Go light on the toppings, and you've got a good breakfast!
Can I make gluten free waffle mix in advance?
You can make the dry ingredients in advance, whisk them completely, and store in a sealed container in a cool, dark pantry. Once you add the liquids to the dry ingredients, the mixture begins to age.
How long do you cook gluten free waffles?
Gluten free waffles should be cooked on a hot, prepared waffle iron until the steam is no longer escaping from the sides of the waffle iron. You can also flip the waffles in the iron halfway through, once they're formed, to ensure completely even cooking.
Can I use this gluten free waffle batter to make pancakes?
This gf waffle batter is thinner than gf pancake mix, so I don't recommend using it for pancakes. Use our gluten free pancake mix to make pancakes, or anything else you make with pancakes mix in general.
Why are my gf waffles not fluffy?
Did you measure your ingredienst by weight, not volume? Use the right, light gluten free flour blend? Whip your egg whites separately?
Why are my gluten free waffles sticking?
Even nonstick waffle irons need a light coating of cooking oil. Cooking oil is better than butter, since it doesn't burn as easily and get into all the tight spaces.
Can I reheat frozen gluten free waffles in the toaster?
Yes! Frozen gluten free waffles that have been cooled, wrapped tightly and frozen reheat perfectly in the toaster. Just unwrap and toast from frozen until warm and toasty!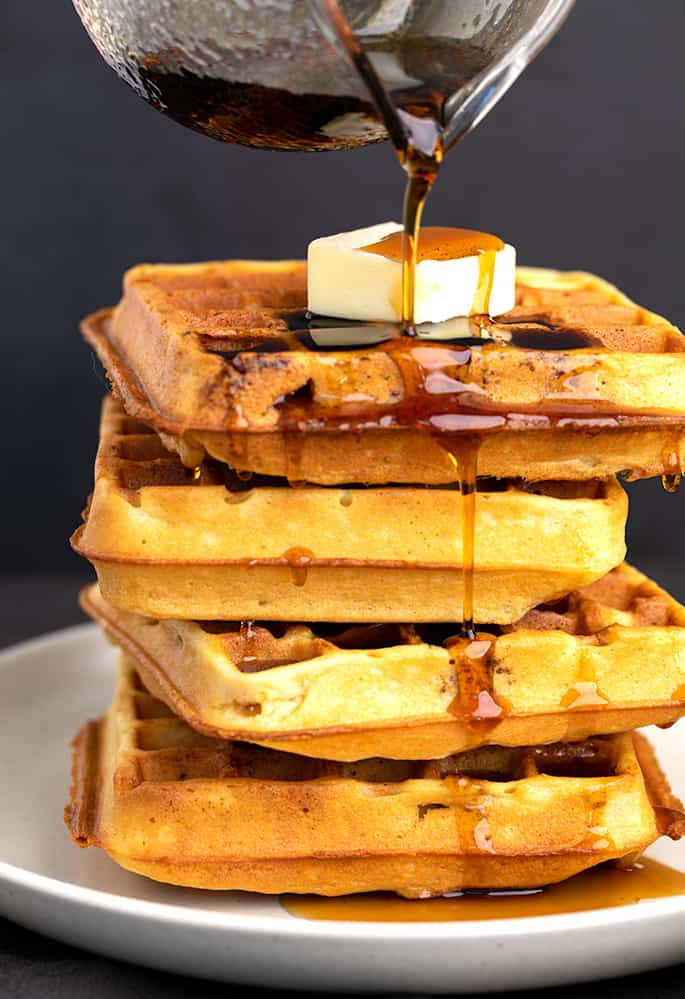 How to make fluffy gluten free waffles, step by step
Super Fluffy Gluten Free Waffles
Make mornings more fun by serving these delicious gluten free waffles. These easy-to-make gf waffles are crispy on the outside and fluffy on the inside.
Course BreakfastCuisine AmericanKeyword gluten free waffles
Prep Time 15 minutesCook Time 4 minutes
Servings 8 square waffles
Author Nicole Hunn
EquipmentWaffle ironHand mixer or stand mixer
Ingredients2 cups basic gum-free gluten free flour blend (185 g superfine white rice flour + 62 g potato starch + 33 g tapioca starch/flour)¼ teaspoon xanthan gum2 tablespoons granulated sugar1 ½ teaspoons baking powder½ teaspoon baking soda½ teaspoon kosher salt2 eggs at room temperature, separated3 tablespoons virgin coconut oil melted and cooled (or a neutral liquid oil, like vegetable or canola)1 cup plain whole milk yogurt at room temperature¾ cup milk at room temperatureCustomary – Metric
InstructionsPreheat and prepare your waffle iron according to the manufacturer's directions.In a large bowl, place the flour blend, xanthan gum, sugar, baking powder, baking soda and salt, and whisk to combine well.In a separate bowl, whip the egg whites with a hand mixer (or in a stand mixer fitted with the whisk attachment) until stiff (but not dry) peaks form.Place the egg yolks and oil in a separate large bowl and blend with a hand mixer (or in a stand mixer fitted with the paddle attachment) until creamy.Add the yogurt and milk, and blend until well combined. Add the dry ingredients, and blend again. The mixture will be smooth and thickly pourable.Fold the beaten egg whites gently into the large bowl of batter until only a few white streaks remain.Pour or scoop about 3/4 to 1 cup of batter into your prepared waffle iron (more or less depending upon the size and shape of your iron), and spread the batter into an even layer.Close the lid and cook until steam stop escaping from the waffle iron, between 4 and 5 minutes, depending again upon the capacity of your waffle iron.Remove the waffle from the iron and serve immediately. Repeat with the remaining batter.If you do not serve each waffle as soon as it is made, refresh the waffles by placing them in a toaster oven at 400°F for about 3 minutes.Waffles can also be cooled completely, wrapped tightly and frozen, then defrosted and refreshed similarly before serving.
NotesFirst published on the blog in 2013. Recipe updated slightly (recommended flour blend modified), photos replaced, video added 2017; some photos and text new in 2022.
The post Super Fluffy Gluten Free Waffles | Fast and Easy Recipe appeared first on Gluten Free on a Shoestring.
Read more: glutenfreeonashoestring.com